Basic Information
Name
: Hidan
Age
: 22
Gender
: Male
Religion
: Jashin
Looks
:
Hidan has two distinct looks: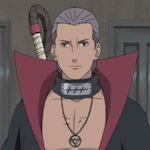 1) His normal look is of a handsome unmarked Nin in his early twenties with swept back white shoulder length hair and pale purple eyes. He has fair skin and wears a golden necklace with the symbol of Jashin either over his chest his front or around one of his wrists. He wears the scored symbol of his home village of Yugakure around his neck, black shinobi pants, combat sandals and over the top the large high collared black and red cloak of the Akatsuki open half way down his chest to reveal much of the upper part of his body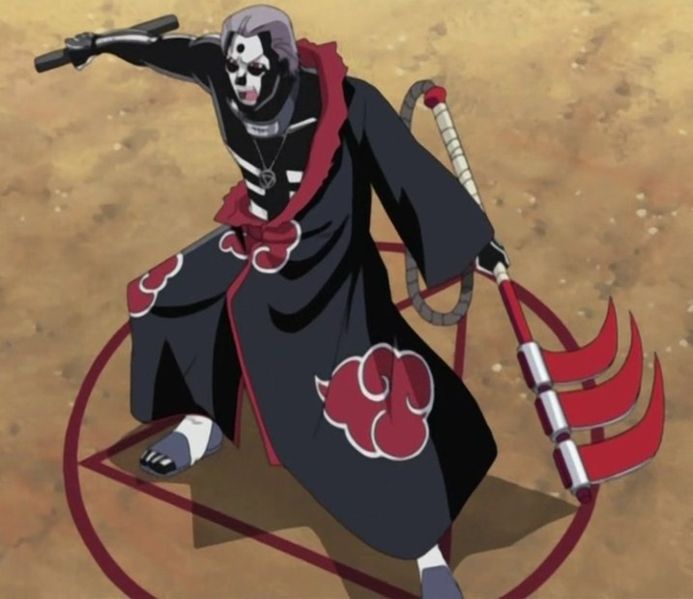 2) During the ritual he takes on a horrific guise. His skin is covered in black and white ritual symbols making him look less human and more like a living breathing undead being. His clothes do not change though he does sometimes take one arm out of his cloak to reveal more his black and white body to make him seem more intimidating
Hidan has a weapons pouch strapped to his right leg as well as some on his waist containing the usual collection of Kunai, Shuriken, Explosive tags etc and a needle in thread in case of emergencies. These are hidden behind his Akatsuki cloak. He also carries a number of sharpened black metal blades he uses primarily as part of his ritual which like the equipment remain unseen under the cloak normally. Last but not least he has a very large 3 bladed scythe with a 30 ft chain attached to one end strapped to his back that is almost as long as he is tall. Its massive size and blood red blades make him stand out in a crowd.
Personality
:
In one word Hidan is a Jackass. In several Hidan is an arrogant egotistical intolerant foul mouthed fanatical sadomasochist. Hidan has few redeeming qualities. He is rude by nature frequently using expletives and never using honorifics except where Jashin is concerned even towards people clearly stronger then himself such as Pain. He has a tendency to drone on endlessly about his God, whom seems to be the only thing he is concerned about, while he has a flippant uncaring attitude to pretty much everything else from money, to goals beyond the next sacrifice. He was also exceedingly arrogant rarely using any Jutsu save his rituals and believing his immortality will always seem him through in the end. Only a sense of humour made him even barely tolerable. In short if Hidan wasn't so useful and hard to kill the chances are the Akatsuki would have turned on him long ago.
There are points in every person's life that change them fundamentally and in Hidan's case his defeat and near destruction at the hands of Shikamaru was just such a major turning point. Whether it was the hopelessness of his plight or simply that being a severed head covered in rubble gave one a great deal of time to reflect on things, either way when Hidan finally emerged his tomb he was changed man in more ways then one. The arrogance and pride that had once been prominent aspects of his character had been stripped away after considering how completely he had been defeated by a Nin with not half his strength, how truly weak he was without his gifts, how dependant he had become of them. He had taken a long hard look at himself and rather then seeing an unbeatable servant of Jashin he found himself wanting. At first he spluttered revenge against Shikamaru and tried to ignore the growing uncertainty that was forming in the back of his mind. He tried to convince himself it was a freak accident but the more he thought about it the more he realised how truly he had failed.
The new Hidan while essentially the same is a world away from the one that was destroyed by Shikamaru. Far more cautious and thoughtful, he stills considers his relationship with Jashin special but no longer demeans the heathens or their goals. Arrogance and all that comes with it has been replaced with humility of sorts. His sense of humour and rudeness remain relatively unchanged, some things never do change but he has grown more respectful of his peers and superiors after considering his own faults. Hidan no longer relies simply on rituals to kill his foes and has rededicated himself to improving his skills and broadening his range of abilities. All in all the new Hidan is a quieter, more cautious individual and all the more dangerous as a result. He is still a sadist with no morals but now he is a careful one. As for Shikamaru while Hidan fully intends to return the favour if he ever encounters him, it is testament to how far he has changed that he doesn't look to immediately seek revenge and will not foolishly strike where the odds in not his favour. Hidan has finally learned a lesson most Nin pick up early in the careers, the value of defeat and he's the stronger for it.
Clan Information
(Optional)
Name
: N/A
Kekkei Genkai
: N/A
Clan History
: N/A
Clan Jutsu
: N/A
Last edited by Hidan on Tue Apr 07, 2009 3:55 pm; edited 2 times in total